New in forums
| | | | |
| --- | --- | --- | --- |
| | | Daniel --- 3 minutes ago | 37577 |
| | | Miegalius --- 3 minutes ago | 9343 |
| | | Mihon --- 8 minutes ago | 34 |
| | CHECK THIS! BB93 java madness lol | Bigg Boss93 --- 14 minutes ago | 36 |
| | | GT6tube --- 48 minutes ago | 28 |
| | Show off your gaming screens (any game) | Gr1jKeE --- 5 hours ago | 2076 |
| | Moving Cars To Different Careers | Im Unfazed --- 10 hours ago | 7 |
| | | Minvydas --- 12 hours ago | 25 |
| | | Harrison15 --- 17 hours ago | 2 |
| | | Harrison15 --- 17 hours ago | 140 |
Extra Promotions here
Description: Capture Mode and More on the Way
Rockstar Games announces content creator releases and confirms GTA Online Heists.
Get ready for lots of new content
updates for Grand Theft Auto Online, beginning with the launch of the free Deathmatch and Race Creators tool coming this week. Here's a look at what's on the way in the weeks ahead...
Deathmatch & Race Creators Beta
This week,
we will give you the first chance to build your own content in GTA Online (and play content others have made) with the release of the Deathmatch & Race Creators Beta. With access to some of the same tools as our own game design and development team, you can craft your own custom blood-soaked gunfights, high-octane street races, screaming jet dogfights and more. You'll also be able to publish your original Deathmatches and Races via the Rockstar Games Social Club for the whole community to discover, download, play, rate and share.
Players can create and customize Jobs for the following modes:
Deathmatch
Team Deathmatch
Race
GTA Race
Rally Race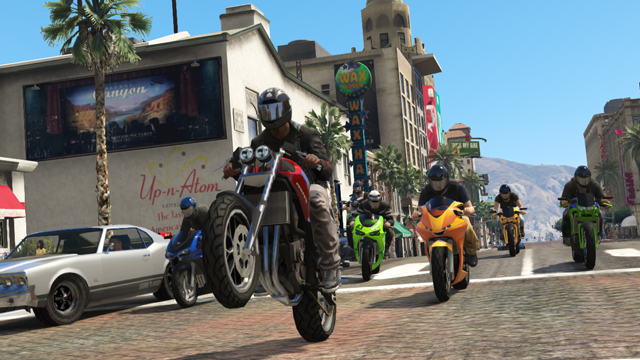 New game modes and additional information here
http://www.rockstargames.com/newswire
---
Comments
(1)
Description: Upload your images directly to GOM server for quick and easy.
You can now upload your images quickly and easily via our image upload script.
upload
.streetlegalmods.com
---
Comments
(0)
Description: he's a friend of mine, and honestly he's pretty damn good for someone on as low a budget as he is! so give him a view, he seriously deserves the attention for the amount of hard work and effort he puts into his videos.
---
Tags: No tags
Comments
(0)
Control Panel:
ShoutBox:
Polls:
Online
27 members, 168 guests
:
2-3
,
adelin_kolarov
,
andy_n
,
Bigg Boss93
,
Daniel
,
dimasia56
,
Disco_Dancer
,
Fabian
,
gah
,
gforw
,
Harrison15
,
JoeAlex
,
kkilla305
,
marcustk
,
markgt
,
Mauricio2008
,
Miegalius
,
Mihon
,
Miran
,
nefsRooni
,
PatrickvZ1979
,
Singh
,
Surci
,
svander
,
tm_kata
,
Trykz
,
turbojc
Promote Your Site on GOM:
Promote GOM on YOUR Site: