Author / Submitted by:
Detriangulator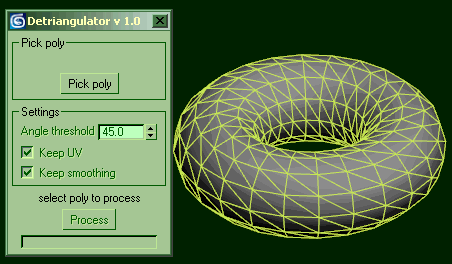 This tool is intended to remove diagonal edges from triangulated editable poly.
Optional features are:
- keep edges that have angle between faces more then specified (set 0 if this feature is not needed)
- keep UV border edges (only 1st UV channel used)
- keep non-smoothed edges
Hint: if you're not happy with the result of the script function just execute undo once, you'll get all removed edges back and selected so you can fix selection and remove edges manually.
Version Requirement:
3DS MAX 6+
Tags:
No tags
Download: Detriangulator
Filesize, kB: 0.0048828125KB
Downloaded: 160
---
---
---
---
---
---
---
---
Only registered users can post new comments
Administration panel
Contact Info
Put your e-mail, skype, phone numbers or any other contact information here so that your visitors could easily get in touch with you.